#EatDrinkAbuja: Denise's Official Recap
Over the last five years, the EDL team has hosted the residents of Lagos to a fun and flavour filled food festival known as the #EatDrinkFestival. Last weekend, the team spread its wings and took it all the #EatDrinkFestival all the way to the capital city!
On the 8th of June 2019, friends, families and foodies from all over the federal capital territory – and Nigeria, if we're keeping it a buck – gathered at Harrow Park to delve into a world of culinary delicacies and delight. All day long, we were surrounded by pleasant aromas, a wide variety of flavours and people who were excited to eat just as much as we were! Between the sights, smells and scenery, we can't tell what we loved most about the #EatDrinkFestival!
The Sights and Scents
The #EatDrinkFestival hosted 20 food and drink vendors and a myriad of side attractions powered by our sponsors Sterling Bank and Maggi.
Each vendor came prepared with a hands-on team and special menu curated specifically for the festival. Vendors kept their stands colourful by adorning them with balloons, flowers, signature umbrellas – hello, Crazy Pe0ple Cocktails – tiki cups and so much more!
All around the park, you could spot umbrellas attached to benches in Maggi's signature yellow and red colours. These umbrellas provided much needed shade to the sun – and rain – while the festival took place. Asides the cute umbrellas, Maggi provided various side attractions including a live and colourful food demo by Chef Punshak on Chicken and SeaFood stir fry, a cooking competition with attractive prizes and an Instagram worthy photo accessory in no other word than 'Maggi'.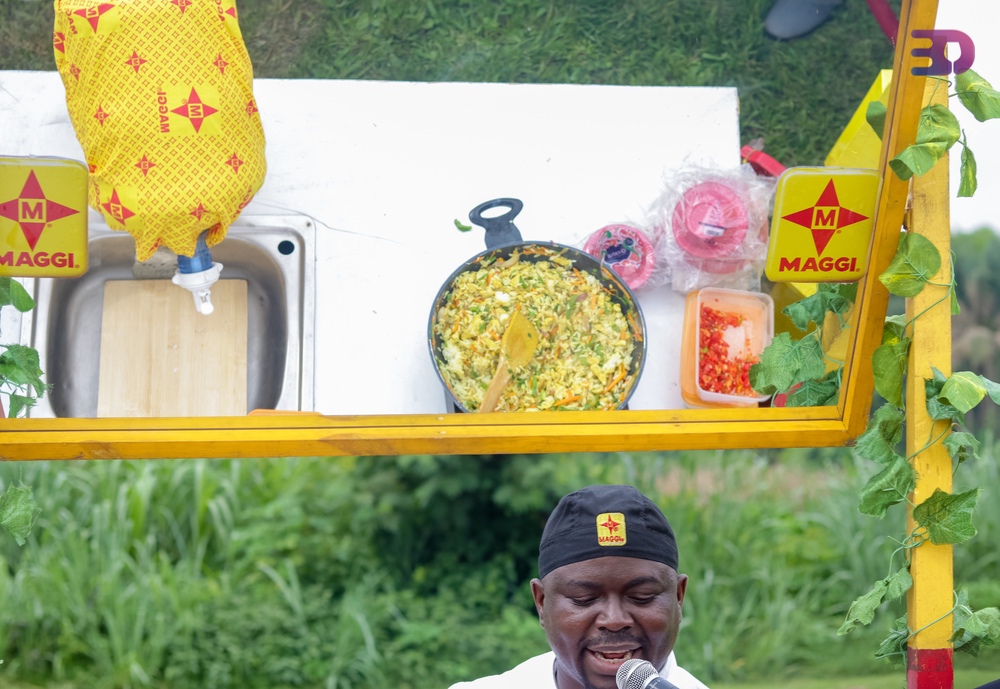 Sterling bank brought their A-Game by giving us lovers of technology a bit more fun than we signed up for. At the Sterling stand, festival attendees were given the opportunity to participate in Karaoke, Virtual Reality Simulations and so much more! You were sure to laugh while hearing a scream or two coming from the VR stand. The word 'hilarious' doesn't even cut it.
The #EatDrinkFestival kept it family friendly by providing giant versions of popular games such as Snakes and Ladders, Jenga and so much more! Watching the giant Jenga pieces tumble to the floor is top 2 most entertaining things on the planet and it is not number two.
The Scents and Scintillating Flavours
When you have 20 fabulous food vendors and a host of celebrity chefs like Chef Punshak and Chef Ayo, there's no doubt that the flavours wafting about Harrow Park last weekend were only befitting for the gods.
At every corner, the rich, smoky smell of grilled meats and the sweet aromas of pastries and desserts were sure to be assaulting your senses. Pastry/dessert vendors like Waffle Stop kept it sweet while Legal Tender Cocktails kept it fresh and fruity for our vegan/fitness inclined attendees. From Chef Punshak's deliciously aromatic stir fry to Chef Ette's spicy barbecue grill, there was no escape to the siren scents of food.
Flavours and textures made to satisfy every food whim or craving were present at the #EatDrinkFestival last weekend. From the strong, delicious flavours of Korede Spagetti to the sweet, delectable frozen treats dished out be Entrees Cocktails, every possible flavour need was satisfied at the festival. Attendees came prepared to satisfy their cravings for exotic food flavours and scintillating scents. They were not disappointed.
The Scenery
Harrow Park provided lush green scenery to which vendors and sponsors dotted with colour. The sharp contrast of Maggi's coloured umbrellas and the white tents created a delicate picturesque balance to the festival's feng shui.
On entering the park, attendees were greeted with an Instagram worthy photo accessory pleasantly decorated with leaves and fruits. At the perimeter of the festival, the vendors set up shop, attending to foodies, friends and families alike. At the centre of the park, Sterling Bank hosted attendees to VR simulations, Karaoke and many other attractions. Just by the Sterling stand, attendees could be spotted participating in giant board games like Snakes and Ladders and Jenga. Sitting areas took up the area just beside the gaming area and the area close to the magi stand where Chef Punshak held his live demo and cooking competition. The park offered enough play room for kids and teenagers while giving adult enough space to stroll and bond over delicious food.
Our festival attendees kept their clothing comfy and classy. They really knew how to dress to impress while dressing to ingest. Many attendees kept it simple with off shoulder tops, free flowing gowns/jumpsuits or casual jeans/shorts and a top.
It was a good one, Abuja. The team will be back next year